Mater Dei Latin Mass Parish has many young and vibrant Catholic families, and to support the spiritual and social growth of these families, Mater Dei offers many opportunities for service and spiritual enrichment for the youth of our parish.
---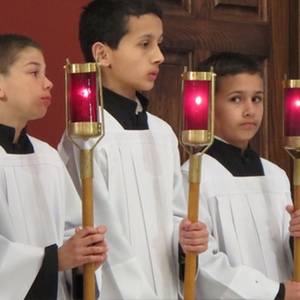 Altar Boys
Contact: Carlos Valdivia – altarboys@materdeiparish.com
As Catholics, we treasure the "most beautiful thing this side of Heaven" and our altar boys helps us to preserve this sacred tradition. Altar boys assist the priest at the altar during the Sacrifice of the Mass and other liturgical events.
Choral Ensembles
Contact: Chase Fowler – musicdirector@materdeiparish.com
The primary purpose of the many Choral Ensembles of Mater Dei is to praise and glorify almighty God through the use of Sacred Music. We also honor Mary and the Saints and help beautify the Liturgical worship through our singing. Mater Dei has four different choirs for youth, based on gender and age.
Little Flowers (Young Girls Social & Spiritual Group)
Contact: Claire Dodge (5-8) & Lauren Frisch (9-12) [Both use the same email] – materdeilittleflowers@materdeiparish.com
Little Flowers Girls Club (LFGC) is an activity-based program for teaching virtues and studying saints through Scripture, saints' biographies and the Catechism. Each month, one of our priests begins our meeting with a teaching to the entire group about the saint and virtue we are studying that month. The girls then break into either the Bluebonnet (ages 5-8) or Roses (ages 9-12) group to engage in age-appropriate activity. LFGC meets on first Saturdays from 10:30a-12:30p.
Mater Dei Homeschool Group (MDHSG)
Contact: Jamie Pinkerton – homeschoolgroup@materdeiparish.com
A support group for Catholic homeschoolers who are Mater Dei parishioners or friends. We provide support through monthly Mom meetings, liturgical year festivities, fellowship and fun events, service work, field trips and resource and information sharing.
Our Lady's Fiat
Contact: Debbie Malain – ourladysfiatgroup@materdeiparish.com
For young ladies ages 13-18, we meet on the 4th Saturday of each month after 9:30 am Mass. Meeting time consists of a tea party brunch, a short devotion and talk led by Fr. Bauknecht, and an activity.
St. John Bosco Boys Group
Contact: Diana Hernandez – boysformationprogram@materdeiparish.com
Boys formation program (ages 13-18) – The goal of this program is to foster the virtues of purity, temperance, prudence, justice and fortitude along with the development of Christian conviction and true leadership. Courses offered provide spiritual formation alongside intellectual growth.
SURGE Upper Teen Group
Contact: Mary Montes – surge@materdeiparish.com.
Surge, an upper teen group for youth in 10th -12th grades, meets on second Fridays at 4:30 and has a social activity on fourth Saturdays.
Youth Group
Contact: David Vidimos – youthgroup@materdeiparish.com
For youth ages 13-18, the youth group generally meets on 1st & 3rd Saturdays in the parish hall, from 5:30p-9:30p. Starting with a rosary at 5:30 pm, we have a group dinner and an interactive talk/discussion led by a priest, followed by games and group activities. Additionally, several times per year the group engages in charitable works inside and outside the parish.
Independent Organizations
Junior Legion of Mary
Our Lady of Fatima Home School Cooperative
Troops of St. George