Is this your first time to Mater Dei and the Traditional Latin Mass?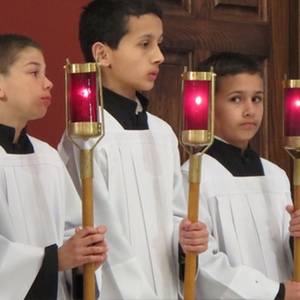 You are not alone! All over the globe people are discovering the treasure that has been at the heart of the Catholic Liturgy since the first century. Do not feel out of place if you are not familiar with Latin (you will see most people reading a translation) or if the actions on the altar look different – this same Mass was known by Roman Catholics around the world for centuries!
The terms Extraordinary Form of the Mass, the Traditional Latin Mass, the Latin usus antiquior and the Tridentine Mass are all terms used to describe Masses celebrated in the Roman Rite in accordance with the liturgical books of 1962, as expressed in the Motu Proprio Summorum Pontificum of Pope Benedict XVI.
The parishioners and priests at Mater Dei are friendly and welcoming, so feel free to ask questions about the Catholic faith as well as elements of the Latin Mass that may be confusing or different from your regular Mass experience.
Some helpful tips for those visiting Mater Dei for the first time
For our visitors, red missalettes which contain all of the Ordinary texts side-by-side in Latin and English are available in the pews and will help with following the Mass. Printed sheets with English translations for the proper texts of the Mass are available on Sundays, and can be found on the tables in the vestibule outside of the main chapel.
There are restrooms and drinking fountains located in the building across the breezeway. Go through the doors, take a left, then take a right to go down the long hall, the restrooms and fountains will be on the left.
There are areas accessible to wheelchairs on the front rows in the center aisle. If you require any assistance, the ushers will be delighted to help you.
Families with Children: Please feel free to sit towards the front so that you can see and hear.
If you need to leave the church for a few moments, there is a cry room available in the St. Anne room, located in the building across the breezeway from the chapel, just to the right when entering the double doors. With young families in mind, speakers and a video feed have been installed so that families can still follow along with the Mass.
If needed, both the men's and women's restrooms are equipped with changing tables.
Before you leave, make sure to visit our parish bookstore in the building across the breezeway, which offers resources to learn more about the Latin Mass and traditional Catholic teachings, as well as missals and missalettes for sale, Mystic Monk coffee and tea, rosaries and sacramentals, and more!
Next topic: Walking into the doors of Mater Dei
Learn more about what to expect at Mater Dei by visiting the links below!
Also see: